Experience Matters
When it comes to lifting stains from your favorite couch or chair, experience really does matter. Not only does UCM Carpet Cleaning Bethesda have the kind of equipment needed to do the job, but our trained experts also know all about the different fabrics used for upholstery. Whether they are dealing with coffee spills on leather or chocolate stains on polyester, the expert upholstery cleaners at UCM Carpet Cleaning Bethesda know exactly how to make your upholstery look clean and fresh again.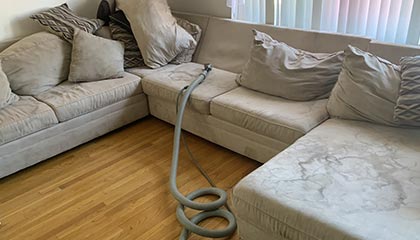 Make the Right Choice
How do you know if you have chosen the right upholstery cleaning? Ask friends and neighbors (you know, the people you trust the most), who they recommend to handle their toughest upholstery cleaning jobs. References are our best advertisement and we want potential clients to check us out before calling to make an appointment.
The Services We Offer
From scrubbing dirty carpets to deodorizing upholstery and applying stain protection to fabrics, today's professional cleaning crews offer a myriad of services.
Upholstery cleaning is a specialized area of expertise and should only be handled by those with the know-how to handle the job. UCM Carpet Cleaning Bethesda technicians proudly offer the following services:
steam or dry cleaning
leather cleaning and maintenance
spot removal
stain protection
deodorizing
Keeping your favorite armchair, sectional sofa or upholstered dining set looking clean and fresh requires more than the occasional spot treatments. It requires regular deep cleaning by an experienced crew that knows how to keep your furniture looking great and lasting longer.